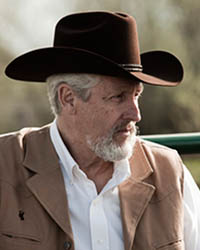 Steve Streadbeck grew up in Salt Lake City, Utah. Steve's father was a college professor; this allowed Steve and his family many opportunities to travel extensively during summer vacation. They traveled widely throughout the United States while Steve was young and in his later years to Europe on numerous occasions. Steve's father had a deep love for art and museums. Through the years this love and appreciation of art was passed to Steve. As Steve's love for art grew he became determined to develop his skill. He participated in schooling and hands-on courses which helped him fine tune his passion.
When the decision was made to become a full-time artist he took an apprenticeship from an established sculptor. In addition to sculpting this accomplished artist owned a foundry with which he produced his work. This allowed Steve the opportunity to gain an in-depth understanding of the sculpting and foundry process from start to finish.
As a young artist Steve loved to sculpt the human form, he felt that it was the epitome of Gods creations. Steve began studying and sculpting the human anatomy. He became determined to learn the human form so well that he could sculpt the human face and body from his memory.
Steve loved growing up in the west. He was fascinated by history and culture. Especially interesting to him was the Indian cultures of the Western United States. Not only was their ceremonial costumes interesting but it gave Steve a perfect medium with which he could display his love for western culture with his ability to sculpt the human body.
Steve located his family in Lehi Utah, and established a sculpting studio in conjunction with a small ranch.
To begin selling his work Steve partnered with his brother Brian and they created in 1982 Main Street Art, Inc. an organization that marketed Steve's sculptures. Steve and Brian traveled extensively to shows throughout the United States promoting his work.
In the mid 1980's one of the main foundries Steve was working with began to have financial difficulties. Partially out of necessity and partially because of his knowledge and love of foundry work Steve and his brothers bought the foundry. The existing foundry closed its doors and Steve along with his brothers Brian and Gary open the next Monday as Adonis Bronze. Since that day in 1986 Adonis Bronze has grown to be one of the most respected foundries in the United States.
In conjunction with the foundry Steve wanted to incorporate an Art Gallery on the facility and a Sculpture Park to show sculptures of all styles from as many artists as possible. With this goal he and his brothers created the Alpine Art Center and Sculpture Park Art Foundation in Alpine Utah. The Art Center and Sculpture Park has become a wonderful forum for showing a large number of works of art. The Sculpture Park has been opened to all artist with artistic control vested in an oversight committee.
Since Steve's early days his journey and career has taken him in many unique and wonderful directions. Steve's commissions have included everything from busts of children to action figures of people of any age. He has done fountains, heroic and monumental size sculptures, historically famous people, and even solders in action for the United States government
Steve Streadbeck has truly become a master sculptor. His love of the art shows in his work and he is now in collections world wide not only of the serious art collector or celebrities, but as part of the collections of many simple collectors, who were captivated by his design and execution. Steve enjoys a special relationship with his clients and he rejoices in the opportunity for direct communication and encourages contact at anytime. He truly views his clients as friends who enjoy his passion for the arts.